Save Hours Searching For The Best Dog Joint Supplements With This Detailed & Vetted List.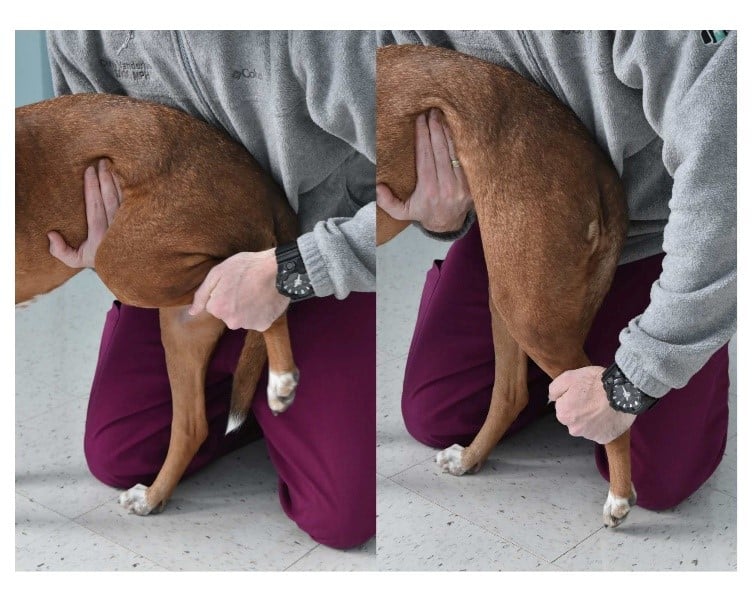 Glucosamine for dogs has been preached by veterinarians for years. Glucosamine supplements offer pain relief, prevention, and the slowing of osteoarthritis in dogs. We've ranked and reviewed the top 6 best supplements to support your dog's joint health in 2022.
Signs Your Dog Might Need a Glucosamine Supplement:
Having difficulty getting up and down stairs
Struggling to get up and down off of the floor easily when called
Not able to hop up onto the bed and cuddle like old times
Not excited anymore to go on long walks
Overall decrease in energy and mobility
Do any of these statements sound familiar?
For most the answer is yes. It's not your fault however…
Joint health challenges are inevitable in most dog breeds at some point in time. Joint pain and stiffness can plague puppies, as well as older dogs. Which is why joint supplements are recommended for dogs of all ages. Prevention can often be the most effective treatment.
It's time to get ahead of future issues for your pup, or help slow down the process in your senior dog today, utilizing the power of joint health supplements.
6 Best Glucosamine Supplements For Dogs
We did a deep dive on the top 6 best glucosamine supplements. Our hopes is that this list will shortcut the journey to improving your furry friends joint health and well-being.
Most Trusted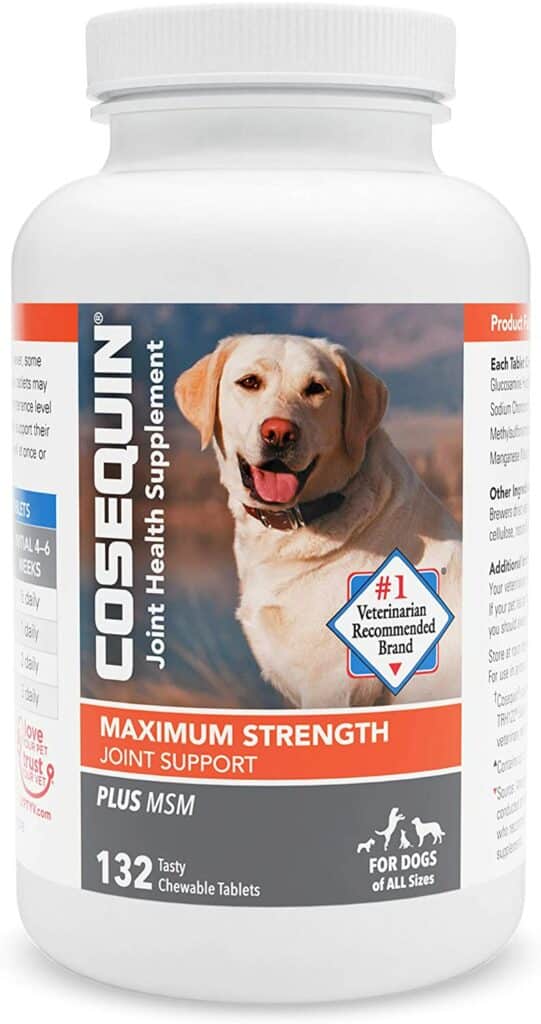 With over 42,000 verified Amazon ratings, and a brand that's been nationally recognized for many years, it's safe to say the COSEQUIN is the most trusted glucosamine supplement for pain relief and joint health amongst dog owners.
About the product:
Your veterinarian may suggest Cosequin supplements if your dog is having difficulties climbing stairs, jumping into the car, or going for walks
Cosequin supplements are formulated to meet a variety of needs
Cosequin for dogs is available in a tasty chicken flavored chewable tablet to help your dog maintain healthy joints and support joint mobility
Manufactured in the United States with globally sourced ingredients, Cosequin is a high quality, dog joint supplement, and is excellent for long-term use and maintenance
Packaging may vary: Same great formula
Best Overall – Clinically Tested*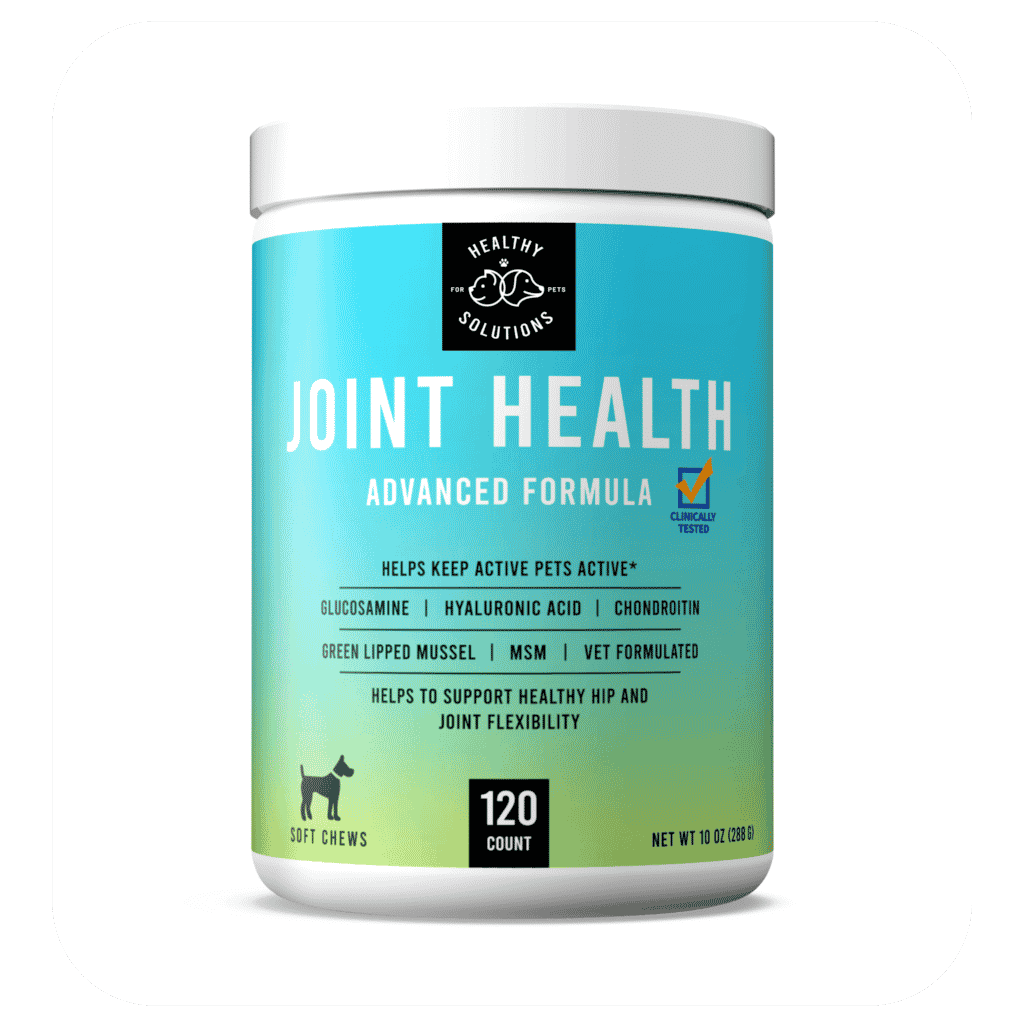 Our Advanced Joint supplement for dogs is veterinarian formulated and has been clinically tested* to increase activity. Helps to support healthy hip and joint flexibility and ease aches and discomfort from daily exercise. Contains Glucosamine, Chondroitin, MSM, Green-Lipped Mussel, Boswellia, Yucca, Vitamin C, Zinc, Hyaluronic Acid, Vitamin E, prebiotics, probiotics and an enzyme blend that all work synergistically to support overall joint function.
About the product:
VETERINARIAN FORMULATED with high-quality ingredients that support healthy mobility, cartilage and joint health, including glucosamine, chondroitin and MSM. — 60 Soft Chews
FOR ALL LIFE STAGES – With vitamin C & E for antioxidant support, and hyaluronic acid to help maintain joint lubrication. Great for dogs of all weight ranges to maintain comfort and mobility through all stages of your dog's life
CLINICALLY TESTED TO INCREASE MOBILITY – Recommended for dogs needing the most hip and joint support possible. Helps to maintain healthy cartilage, tendons and overall joint support.
SOFT & TASTY FOR PICKY EATERS – Tasty soft chews are naturally flavored with real chicken and bacon so it's easy to keep the pickiest of dogs healthy.
HEALTHY SOLUTIONS FOR PETS – MADE IN USA — All of our dog supplements are made in the USA in an FDA audited, cGMP compliant facility. Our facility has been manufacturing top quality pet health supplements and training aids since 1994 and is one of the most trusted in the industry.
Best For Large Dogs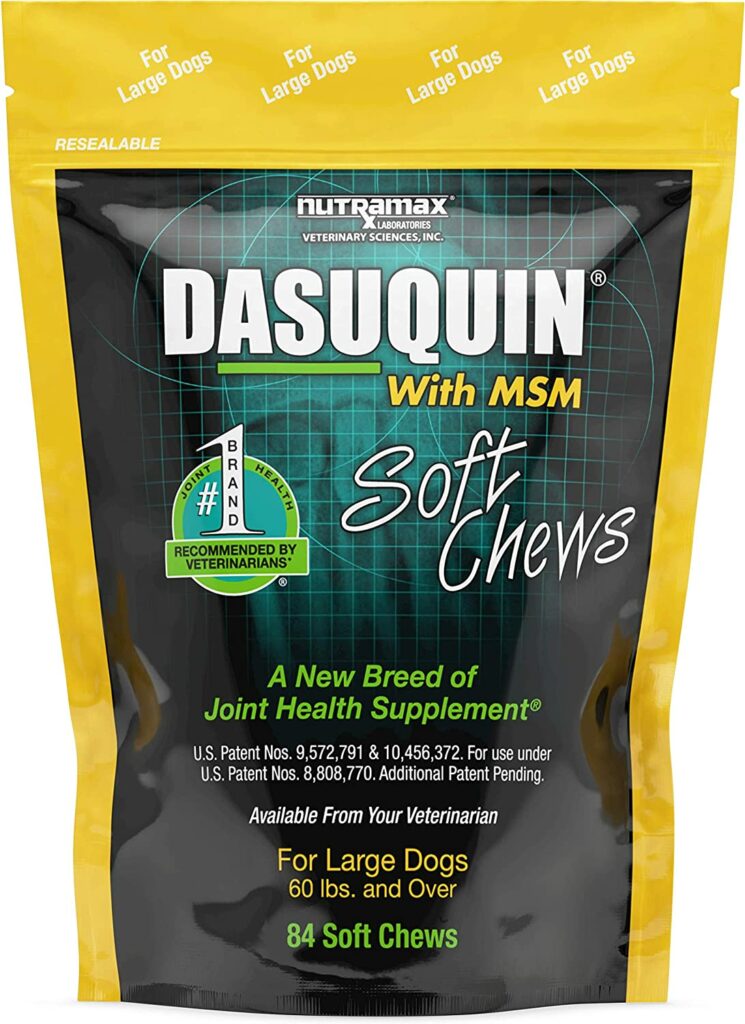 DASUQUIN combines NMX1000 ASU (avocado/soybean unsaponifiables) and decaffeinated tea with Glucosamine and sodium chondroitin sulfate to provide a comprehensive joint health formula. Research has shown that its specific glucosamine hydrochloride and low molecular weight chondroitin sulfate have demonstrated synergy in stimulating cartilage matrix production, while ASU also acts synergistically with glucosamine and chondroitin sulfate.
About the product:
#1 Veterinarian Recommended
A new breed of Joint Health Supplement
For small to medium dogs under 60 pounds
Maximum joint health with MSM
Colors, texture, and density may vary
Proven 25-Year Formula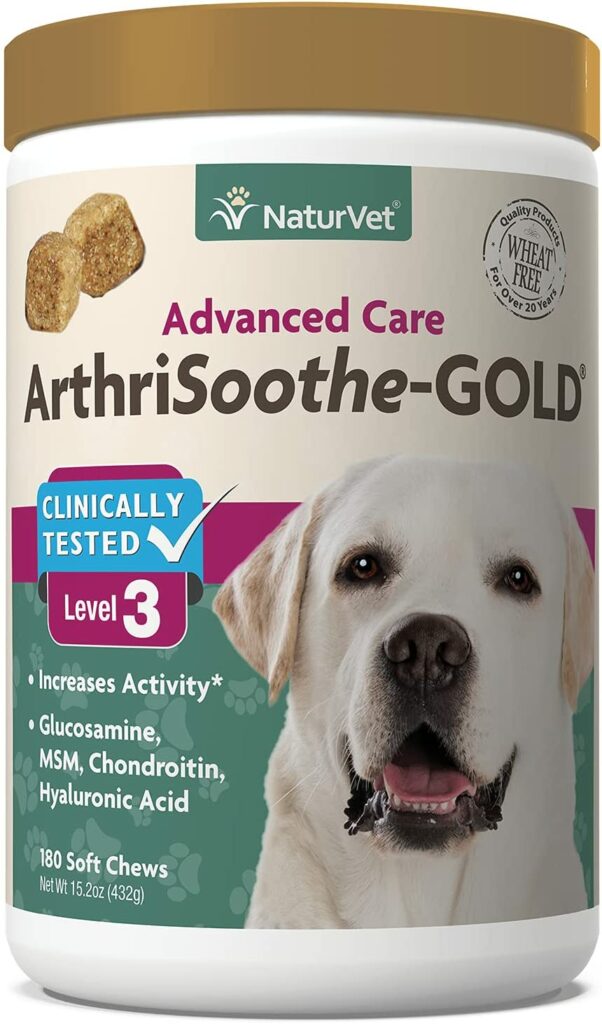 When the most support is need use NaturVet's ArthriSoothe-Gold Joint Supplement. Veterinarian formulated and clinically tested to increase activity while helping to maintain healthy joint flexibility, connective tissues and cartilage. Each soft chew joint support dog supplement in this 180-count jar features a blend of Glucosamine, MSM, Chondroitin, Hyaluronic Acid and Green Lipped Mussel. Made by NaturVet in a cGMP compliant facility located in Temecula, California.
About the product:
CLINICALLY TESTED JOINT SUPPORT SUPPLEMENT FOR DOGS: In a 70 dog double blind University Study confirmed that NaturVet ArthriSoothe-Gold Level 3 Advanced Joint Care Supplements will increase your pet's mobility.
PET SUPPLEMENTS FOR ENHANCED DOG JOINT MOVEMENT: Ensure that your canine companion receives the nutrients he needs with these joint support dog supplements that include a healthy blend of wholesome ingredients that offer additional support for senior pets or dogs recovering from surgery or injuries.
WHOLESOME DOG SUPPLEMENTS: NaturVet ArthriSoothe Gold Level 3 Advanced Joint Care features nutrients to support lubrication of joints and joint movements. Ingredients include chondroitin, MSM, glucosamine, green lipped mussel and hyaluronic acid.
TASTY, DOG SOFT CHEW SUPPLEMENT: These wheat-free soft chew dog supplements taste like a treat but provide optimal support for your pet's joint health.
PET PRODUCTS YOU CAN TRUST: Since 1994, NaturVet has been serving the four-legged community with nutritional dog supplements so that your pup or senior dog maintains a healthy lifestyle. Made in the USA, each pet product from NaturVet is cGMP compliant.
"OptiMSM" Technology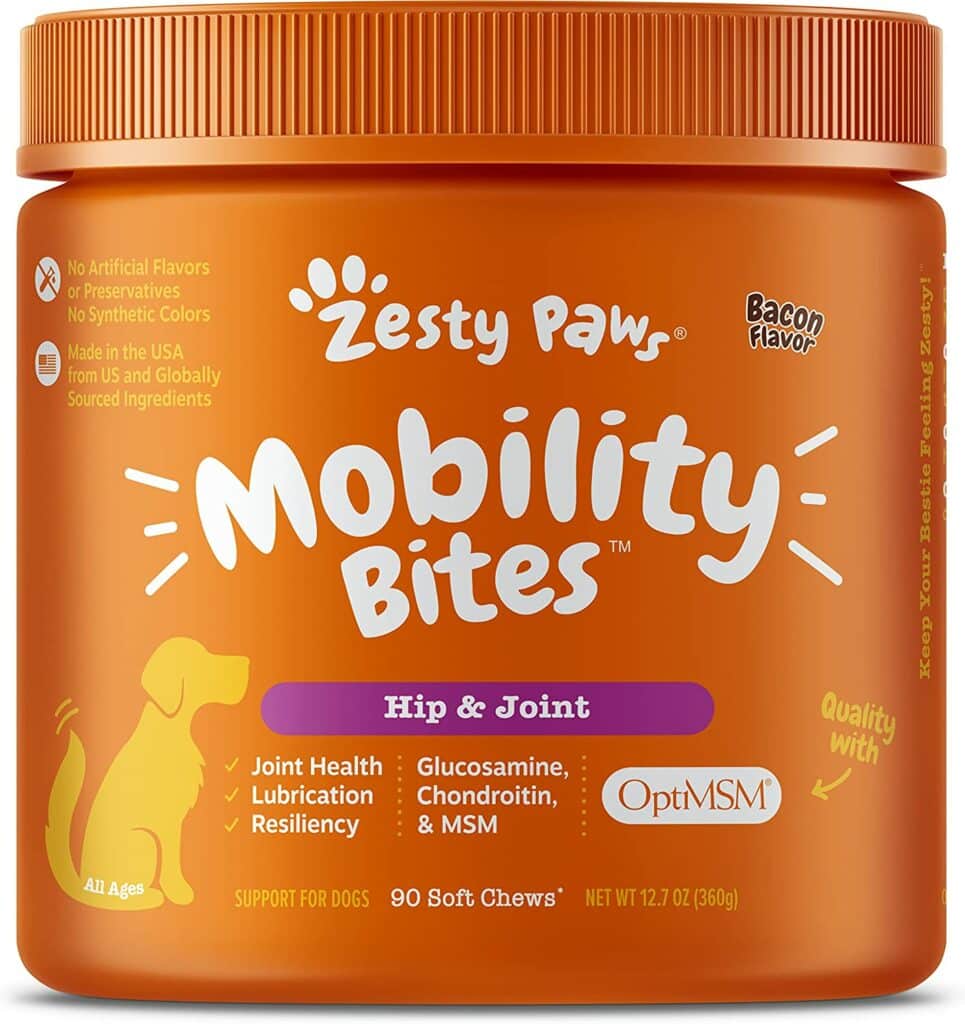 This functional chewable dog supplement features OptiMSM, a form of MSM that provides premium muscular support, plus Glucosamine HCl and Chondroitin Sulfate to support hips, joints, connective tissue, and cartilage for dogs.
About the product:
Premium Hip & Joint Support – Mobility Bites are pawsome chewables with ingredients (including a Glucosamine Chondroitin combo) that support joint health for small, medium, and large breed dogs.
Featuring OptiMSM – At 400 mg per chew, OptiMSM is a premium form of MSM (Methylsulfonylmethane) that undergoes a purifying distillation process to help your dog flex their muscles.
Flexibility of Glucosamine Hydrochloride – These functional doggie supplements have Glucosamine HCl to help maintain the health and lubrication, plus resiliency of joints and connective tissue.
Includes Chondroitin Sulfate – This compound supports normal healthy cartilage, connective tissue, and joint function to relieve your mind by helping care for your adult and senior canine pets.
Treat Your Pup to Extra Pawsome Ingredients – The strength of this chewable functional formula is the Vitamin C and Vitamin E to support normal joint function and connective tissue formation.
Tasty Chicken Flavor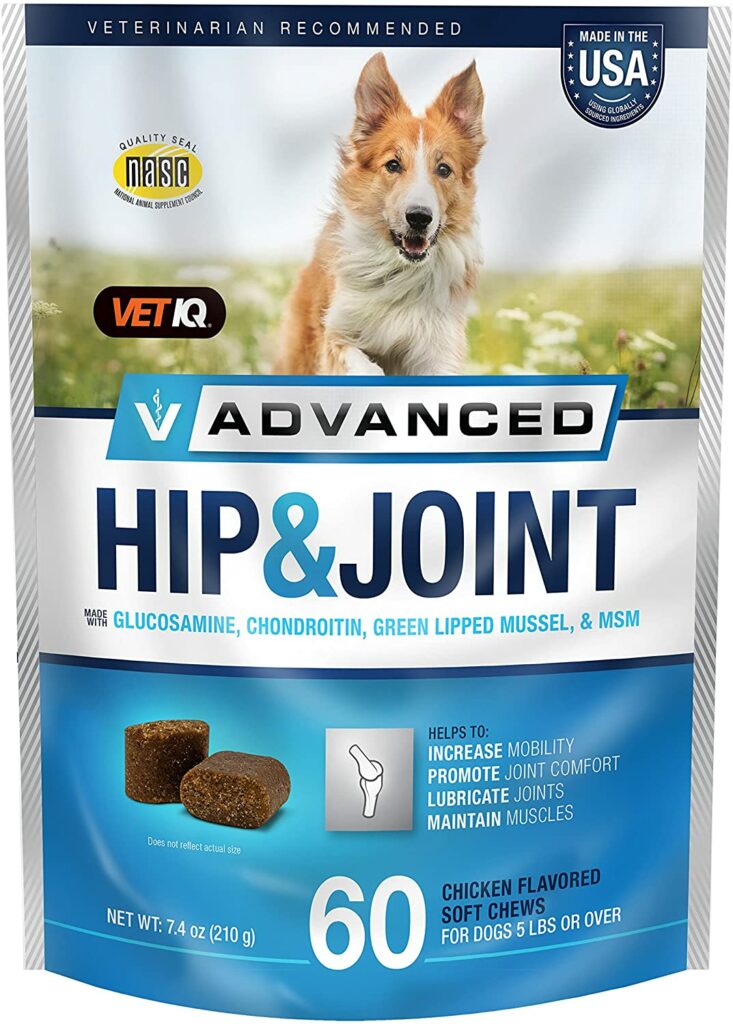 Many dogs experience decreased joint flexibility and mobility as they age. With natural chicken flavor, it won't be hard to coax your dog to take VetIQ Advanced Hip & Joint with UC-II collagen to ease joint-stiffness. This chewable dog joint supplement contains UC-II collagen, Chondroitin, Glucosamine, Methylsulfonylmethane (MSM), and Omega-3s with DHA & EPA to support their cartilage and healthy connective tissue. Save time and money by ordering their favorite treat in the natural chicken flavor package that is made in the USA using globally sourced ingredients.
About the product:
REDUCE JOINT PAIN: UC-II reduces joint pain and improves your adult dog's mobility. This combined with Omega 3, makes this a powerful hip and joint supplement for dogs.
QRILL PET: VetIQ uses this 100% natural product made only from whole Antarctic krill and combines with other powerful ingredients to promote healthy connective tissue and brain function.
POWERFUL INGREDIENTS: These dog soft chews contains Omega 3's DHA & EPA which help lubricate your canine's joints.
PERFECT FOR ANY DOG: Moist and tasty hip and joint chew ideal for all dogs that can be directly given to your pet or easily crushed to be added to your canine companion's favorite food
COMPLETE PACKAGE: The VetIQ Soft Chew comes with 60 chews per bag.
Where To Go From Here:
Finding the best glucosamine for dogs is not easy, especially with so many options. You can't really go wrong with any of the glucosamine supplements in this list. It's important you always do your own research and consult with your veterinarian before putting anything foreign into your best buds body. Hopefully this list of joint supplements will finally end your search for the best overall joint supplement for dogs. Our mission at Healthy Solutions is to take the guess work out of caring for your pets. Our formulations are created by experienced veterinarians to address specific solutions for a variety of pet issues. We highly recommend you choose a product that's dosed properly and clinically tested* to increase mobility. No matter which product you try, it will take at least 30-60 days of consistent daily use to see impactful results.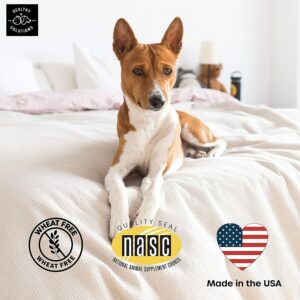 We've taken the guesswork out of caring for your pets. Our formulations are created by experienced veterinarians to address specific solutions for a variety of pet issues.
All of our products are:
GLOBALLY SOURCED INGREDIENTS
FDA AUDITED, CGMP COMPLIANT FACILITY