Choose The Best Poop Eating Deterrent For Your Dog (Updated 2022)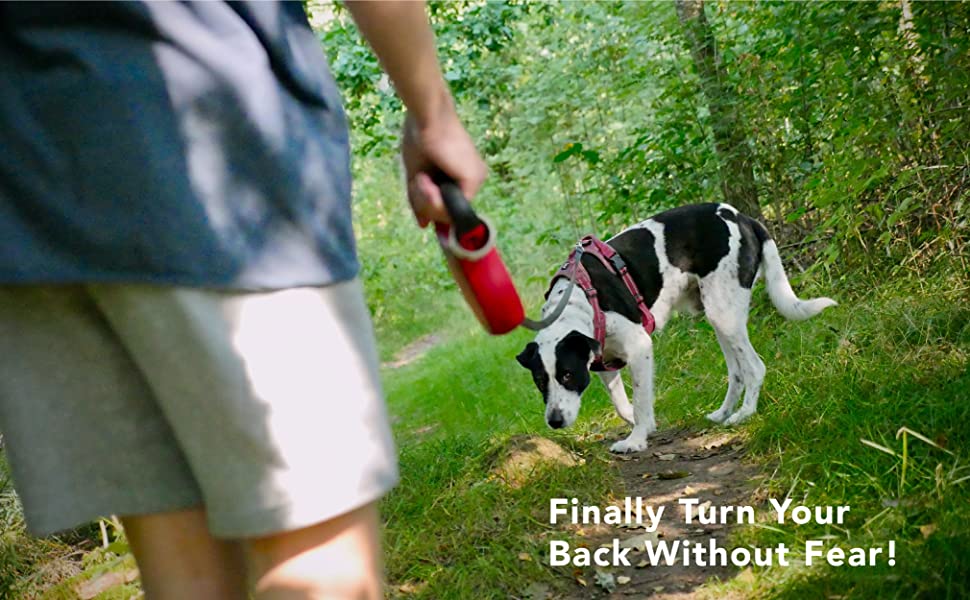 Overview:
Coprophagia in dogs is a habit most dog owners don't like to discuss. Here's a comprehensive breakdown of the top 7 best poop eating deterrent for dogs so you can put an end to the stinky mouth kisses and get back to enjoying walks again.
Why Do Dogs Eat Poop? How To Stop This Habit
We dog owners like nothing better than a warm wet kiss from a furry friend. It's a good sign of the bond we share with them.
But there can be one deterrent that would keep us from enjoying that sloppy wet kiss. "Doggy breath" can be bad enough but if you catch your pal eating poop, all bets are off.
Catching your dog eating poop, termed coprophagia, can be very embarrassing and I suspect many pet parents hide it. Unless concerns develop about their pup's health, it remains a "dirty" little secret. This can occur where the dog eats his/her own feces, or the feces of other dogs.
I suspect many pup parents are embarrassed by the very idea. After all, if a human were to engage in such a revolting act, you wouldn't want to go anywhere near them, right?
Well, as much as our pups are members of the family, this still doesn't make them true human beings and as such there are some behaviors very different for dogs compared to people.
Coprophagia in dogs is one of those. But not to fear! We understand this behavior is unpleasant so we decided to rank and review the top 7 best stool eating deterrent products for dogs.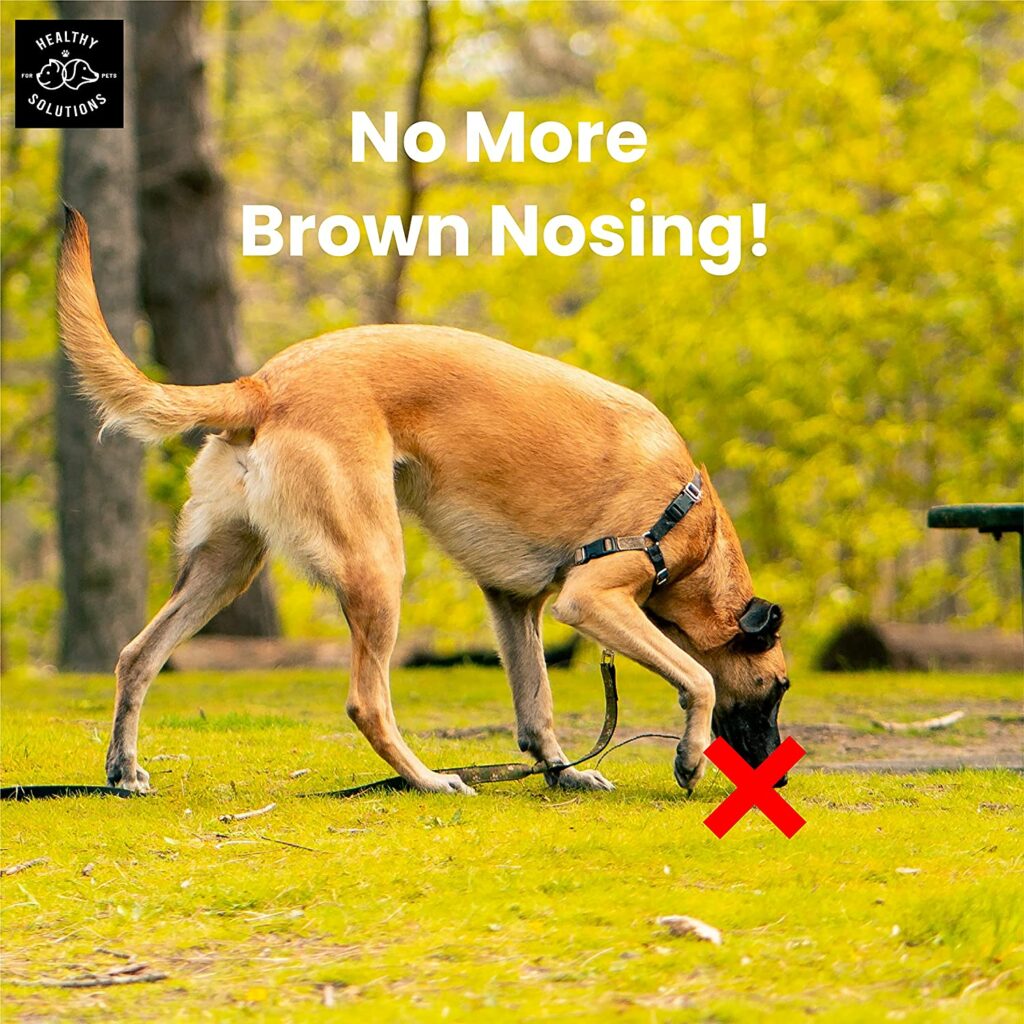 7 Best Poop Eating Deterrents For Dogs
We did a deep dive on the top 7 best stool eating deterrent supplements for dogs. Our hopes is that this list will put an end to your dogs poop eating behavior. Here's what we came up with.
Most Trusted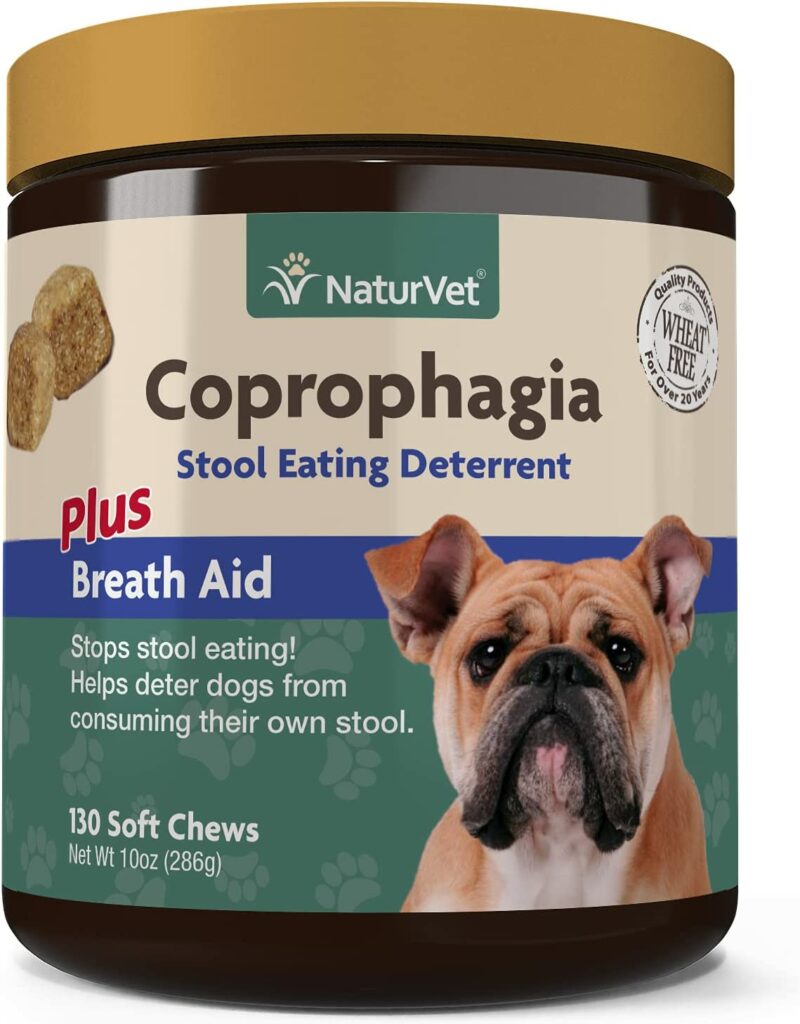 With almost 10,000 verified Amazon reviews, and a brand that's been a household name for 30 years, it's no mystery that dog owners everywhere trust Naturvet to help solve their dogs nasty stool eating habit.
About the product:
Coprophagia Stool Eating Deterrent Plus Breath Aid Time Release Tablets help stop stool eating!
Helps deter dogs from consuming their own stool or other dogs' stool (if given to all dogs in the household). For use in dogs over the age of 12 weeks.
Enhanced with a unique blend of Yucca, Parsley, Chamomile and a Proprietary Enzyme Blend.
Helps support the reduction of unpleasant pet odors while helping to freshen your pet's breath.
NASC, cGMP Compliant, Manufactured in the USA
Best Overall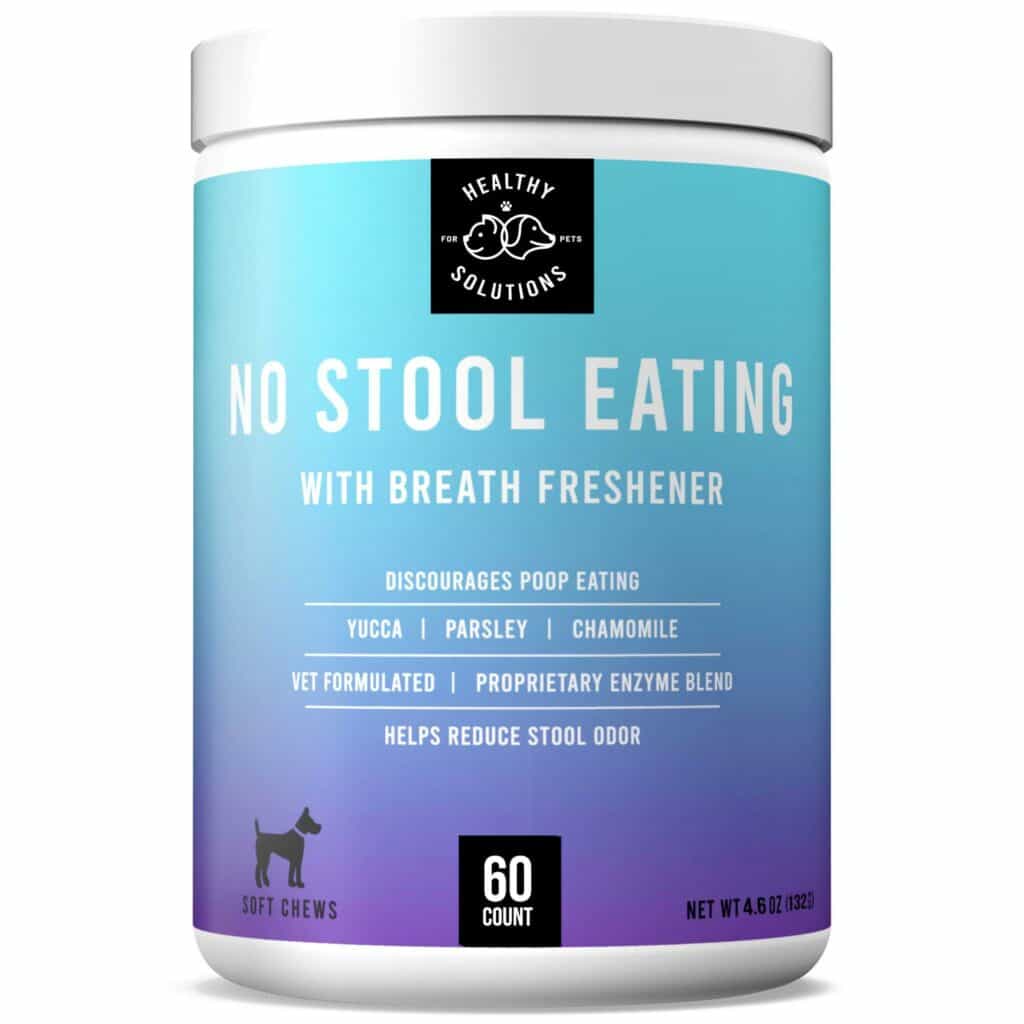 Our Healthy Solutions No Stool Eating formula has quickly become one of our best-sellers, due to its effectiveness with treating coprophagia in dogs. Enhanced with digestive enzymes, probiotics, and parsley to freshen that doggy breath. We're confident based on 1000's of other dog owners that your doggy will stop eating poop within 30-60 days if this stool eating deterrent is administered consistently every day.
About the product:
STOP STOOL EATING — Healthy Solutions No Stool Eating Soft Chews will help deter dogs from eating their own poop or other dogs. — 60 & 120ct Soft Chews
USE ON ALL DOGS IN THE HOME — In multiple dog households, give Healthy Solutions No Stool Eating Soft Chews to all dogs in order to be effective. Allow 30 days for optimal results.
MULTI-FUNCTIONAL SOFT CHEWS — Made with Yucca schidigera extract and Glutamic acid to help reduce stool odors making them less appealing. Enzymes and probiotics help to support the digestive process while parsley helps to freshen your pets breath.
POOP EATING PREVENTION — Here at Healthy Solutions, we are totally anti-poop eating. So much so that we created our own supplement to deter it once and for all! Works on the most determined of poo eaters. Don't go one more day with the worry of being grossed out!
HEALTHY SOLUTIONS FOR PETS – MADE IN USA — All of our dog supplements are made in the USA in an FDA audited, cGMP compliant facility. Our facility has been manufacturing top quality pet health supplements and training aids since 1994 and is one of the most trusted in the industry.
Advanced Technology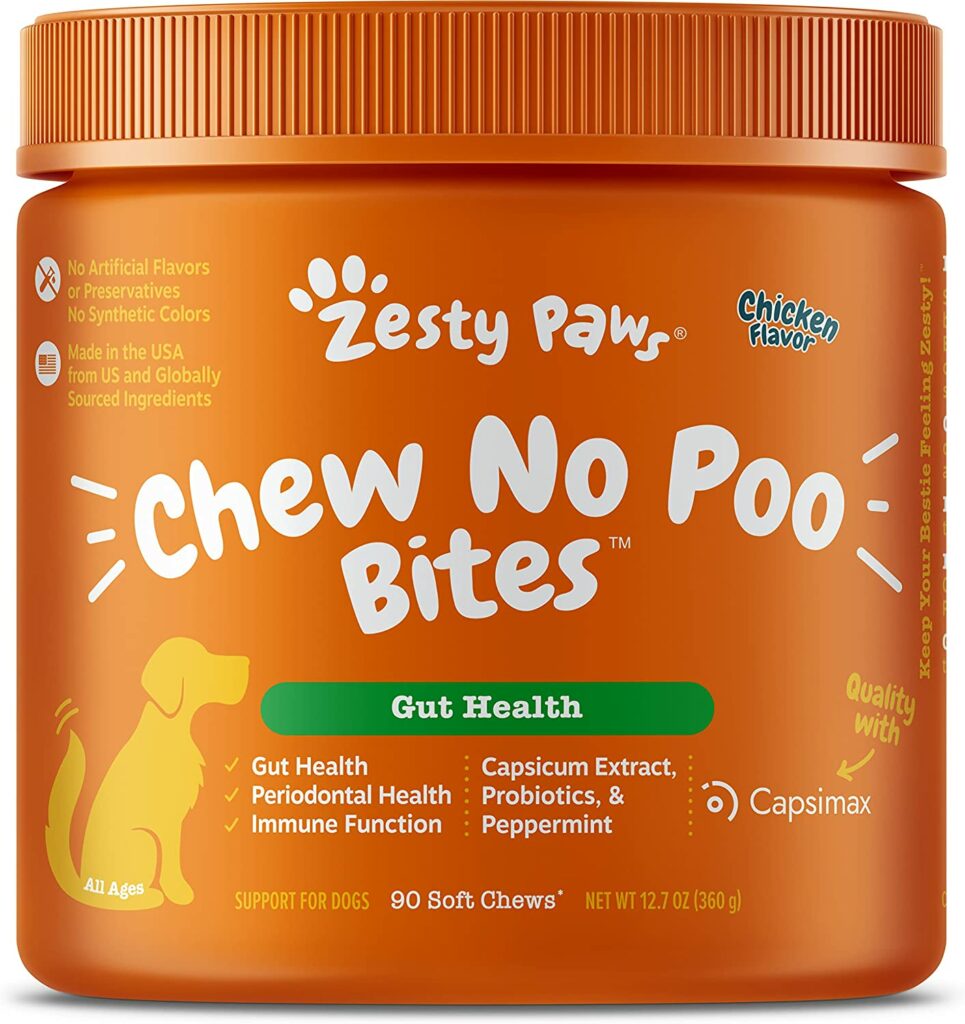 Zesty Paws Chew No Poo Bites have garnered much attention due to the claims that their Capsimax technology is a game-changer for giving stools a more unpleasant taste top help deter your dog from eating poop more effectively. With over 3,000 Amazon reviews, we think most customers probably agree this is a reliable stool eating deterrent.
About the product:
Help Fido Feel "Too Cool For Stool" – Zesty Paws Chew No Poo Bites are chewables that function as a poop eating deterrent, breath freshener, and digestive helper for furry friend's not-so cute habit.
Featuring Capsimax – These treats contain Capsimax, an advanced, controlled-release form of Capsicum Extract (chili) that gives stool a more unpleasant taste any doggy with coprophagia troubles.
Powerful Digestive GI Aid – Each chew includes 1 Billion CFU of Probiotics and five enzymes to support gut flora, regularity, and overall digestion for dogs with gas and constipation.
Better Breath – If your pet's mouth smells like potty, no problem. This formula contains a natural breath freshening blend of Parsley, Apple Cider Vinegar, Ceylon Cinnamon, and Peppermint for oral care.
Deters Eating Other Dogs' Stool – If your canine eats stool from their doggie friends, giving these anti-coprophagia chewables to other dogs may help to stop your pup from consuming their droppings.
4-In-1 Formula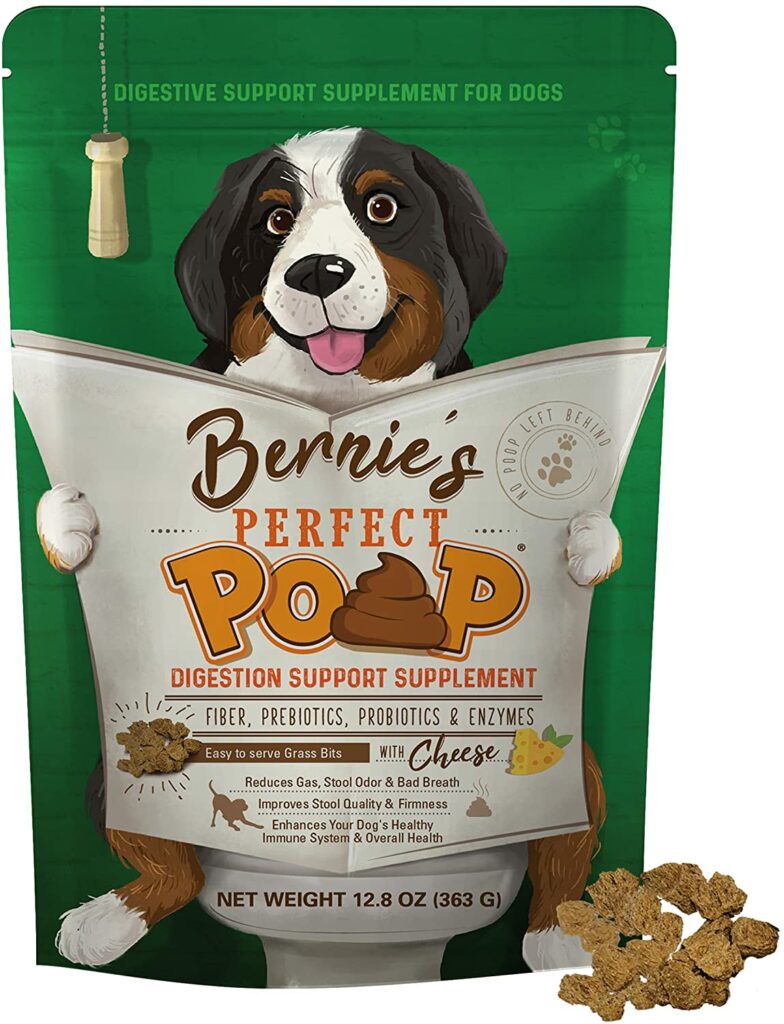 Bernies 4-1 formula includes fibers, prebiotics, probiotics and digestive enzymes to supercharge your pet's digestive system. Often times the reason dogs eat poop in the first place is due to an unhealthy gut, and nutrient deficiency from subpar dog food. Your pup will then resort to dog poop. This can save money and time from having to buy 3-4 different supplements. Instead, all of these benefits are included in one bag of Bernies Perfect Poop stool eating deterrent..
About the product:
HEALTH STARTS IN THE GUT: High Fiber Grass Bits naturally revitalize your pet's digestive tract to relieve digestive issues including diarrhea, constipation, upset stomach, stalled digestion, bloating and food intolerance; Reduces gas, stool odor, bad breath and firms up poop
HELP YOUR DOG FEEL THEIR BEST: Bolster your dog's immune system and overall health; Increase absorption of nutrients and vitamins to help tackle common pet concerns such as allergies, skin, coat, itching, licking, infection, low energy, weight loss, mood, sensitive stomach, and more
COMPLETE 4 IN 1 FORMULA: Combines premium Fibers, Prebiotics, Probiotics and Enzymes to supercharge your pet's digestive system. These four building blocks unite to form a high fiber solution that heals and maintains your dog's gut
4 IN 1 FORMULA SAVES TIME AND MONEY: Stop buying separate supplements; save time and money by buying one solution that combines them all; Solid grass bits mix in well with your dog's food or can be served as treat or topper; No more powders stuck at the bottom of the bowl or floating in the air like other brands; Serving size varies based on weight – One bag will last a 50 lb dog a little over a month
NATURAL PREMIUM INGREDIENTS: Natural, Grain Free, Gluten Free, Non-GMO and Made in USA; Miscanthus Grass, Pumpkin Powder and Flax Seed Fibers provide the perfect poop; Inulin & Xylooigosaccharides Prebiotics; Bacillus Subtilis and Bacillus Coagulans probiotics support a healthy digestive tract and immune system; Blend of digestive Enzymes break down food and increase nutrient absorption
Vet-Recommended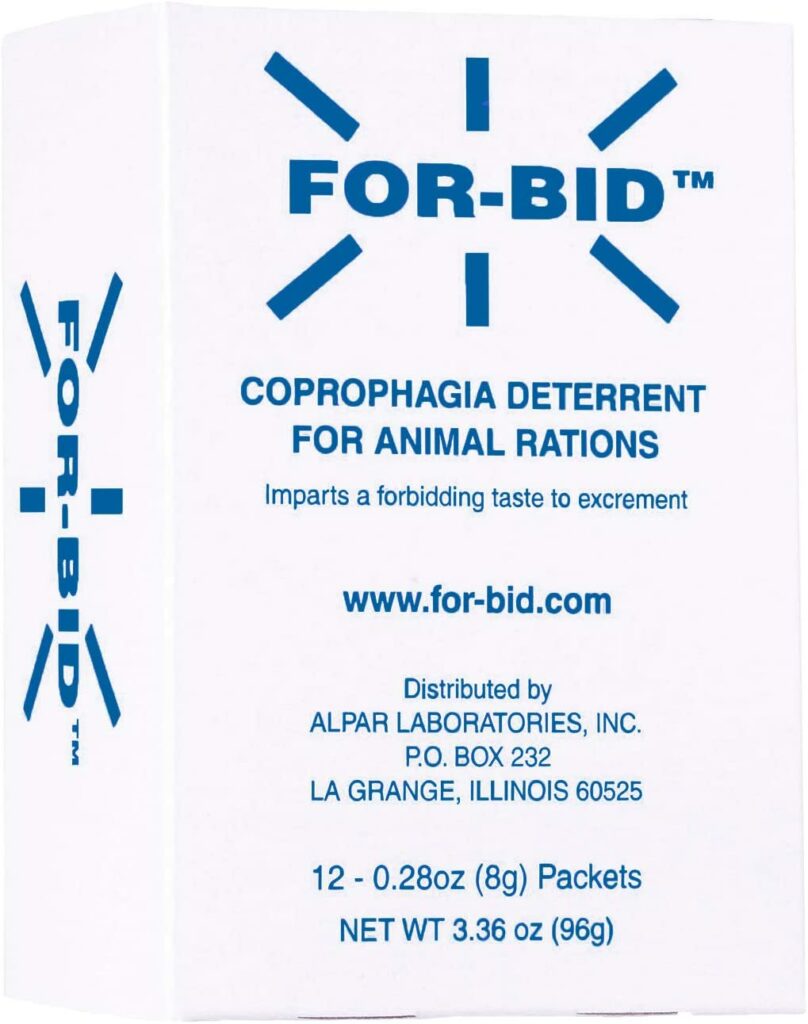 Recommended by veterinarians for over 60 years, for-bid is a staple for the treatment of coprophagia in dogs. This was one of the first ever stool eating deterrent products released aimed directly at solving this problem.
About the product:
VET RECOMMENDED FOR OVER 60 YEARS – Veterinarian professionals recommend For-Bid to pet owners as a safe and effective way to deter their furry friends from unhealthy habits
EASY TO USE – Simply sprinkle onto pet food as directed and you're done! Typically effective in under 1 week. May require 2-3 weeks of additional treatment depending on the underlying cause of your pets poop eating behaviors
DOESN'T ALTER NORMAL DIGESTION – Will not alter the taste or scent of your pets food. Animals with special dietary needs or medical issues should consult with Veterinarian before using
REDUCES BAD BREATH – For-Bid helps keep your pet both clean and healthy inside and out by deterring repellent behaviors
THE ORIGINAL – Developed in 1960, For-Bid was the first product of its kind on the market and remains the industry standard for anti-coprophagia treatment. We're proud to be 100% Made in America
Holistic Blend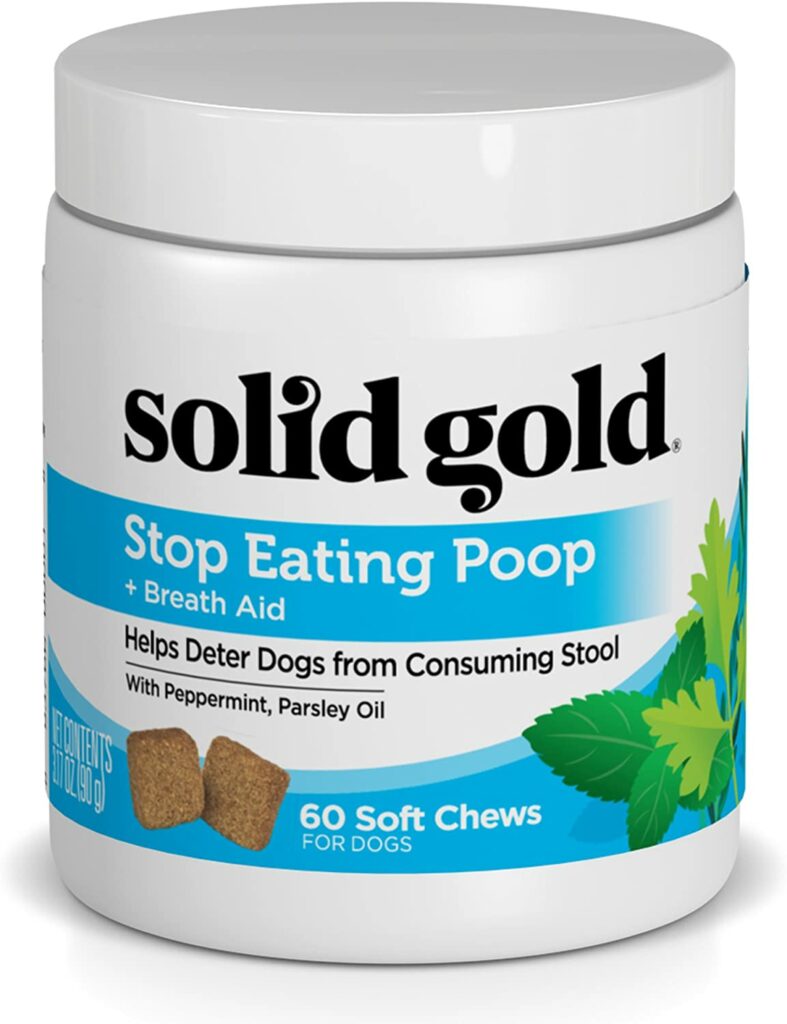 Claiming to be America's first holistic pet food. Free of artificial colors, flavors, and preservatives. Solid Gold also contains a unique ingredient which is Peppermint. For extra fresh breath. As with the other products mentions, you must give these soft chews to all dogs in the household for maximum effectiveness. The disgusting habit of poop eating applies to your dogs own stools, as well as other dogs
About the product:
BREAK BAD HABITS: These easy-to-use stool eating deterrent chews naturally makes stool taste bitter to dogs that have issues with coprophagia; Stop Eating Poop chews also contain superfoods like peppermint for breath aid & parsley oil for gut health
DIGESTIVE SUPPORT: Carefully selected digestive enzymes also help dogs digest and utilize food more efficiently, which helps reduce stool output
AMERICA'S FIRST HOLISTIC PET FOOD: Solid Gold has been delivering transformative nutrition for your pet since 1974, crafting recipes with functional superfoods, omega fatty acids, high quality proteins, and protected probiotics to support gut health and overall well being
FOR USE WITH DOGS ONLY: Give Solid Gold stop eating poop chews to the dog whose stool is being consumed. For use with dogs only, not for use with cats; give to your dog twice daily for first 2 weeks, once daily after that; a decrease in stool eating behavior generally occurs after 2-4 weeks.
HOLISTIC PET NUTRITION: Our formula is free of artificial colors, flavors, or preservatives all while being made in the USA
Easy to Eat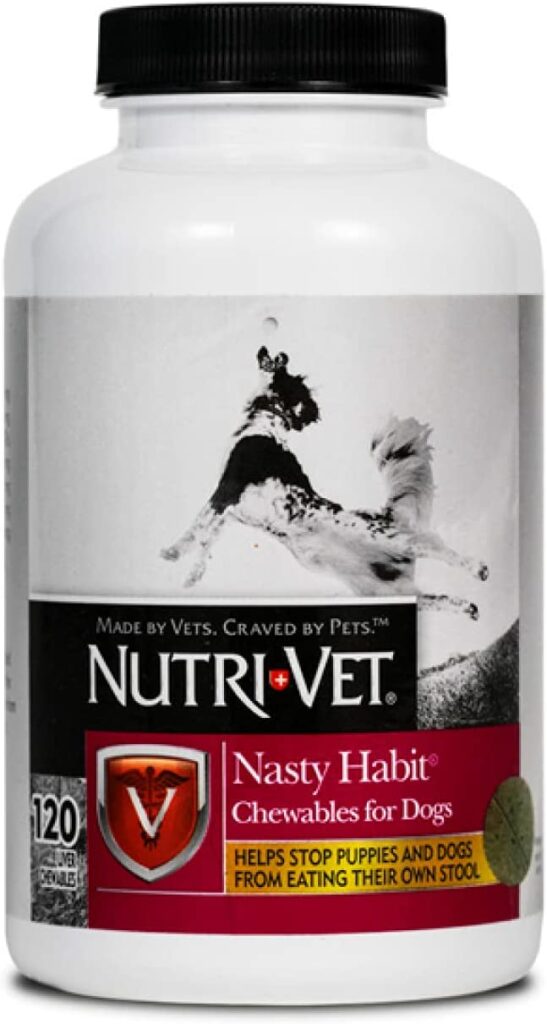 Featuring a tasty liver flavor that your dog will probably love, along with cayenne pepper which acts as a natural stool eating deterrent. Nutrivet rounds out our list and is a solid choice for most pet owners.
About the product:
REDUCE ODOR – Yucca schidigera helps reduce odors arising from stools and urine to make them less appealing to a dog.
STOPS STOOL EATING – Cayenne pepper imparts an offensive taste to stop dogs from eating poop.
BITTER TASTE – Glutamic acid makes stools taste very bitter to the dog when mixed with stomach acids. This combined with cayenne pepper act as natural stool eating deterrents.
DIGESTIVE ENZYMES – Digestive enzymes help alter the taste and odor of stool.
MADE BY VETS – Formulated by veterinarians, all Nutri-Vet products are made to the highest standards of quality and consistency.
Where To Go From Here:
Finding the right coprophagia treatment for dogs can be challenging. Hopefully this list of stool eating deterrents will end your search for the best overall no stool eating solution. Our mission is to help as many dog owners as possible rid their dogs of this disgusting habit. Unpleasant pet odor from dog poop is a lot to bear on it's own. When that odor is also contained in your pups mouth, it's downright torture. That's why we highly recommend you choose a product with a strong breath freshener, on top of all the other ingredients that help to treat this issue at the source. No matter which product you try, it will take at least 30-60 days of consistent use to see impactful results. At the end of the day, you can't go wrong with any of the above 7 choices.
For a full scope of comprehensive dog health care that doggy parents swear by, please check out some best-selling supplement bundles.
We've taken the guesswork out of caring for your pets. Our formulations are created by experienced veterinarians to address specific solutions for a variety of pet issues.
All of our products are:
GLOBALLY SOURCED INGREDIENTS
FDA AUDITED, CGMP COMPLIANT FACILITY