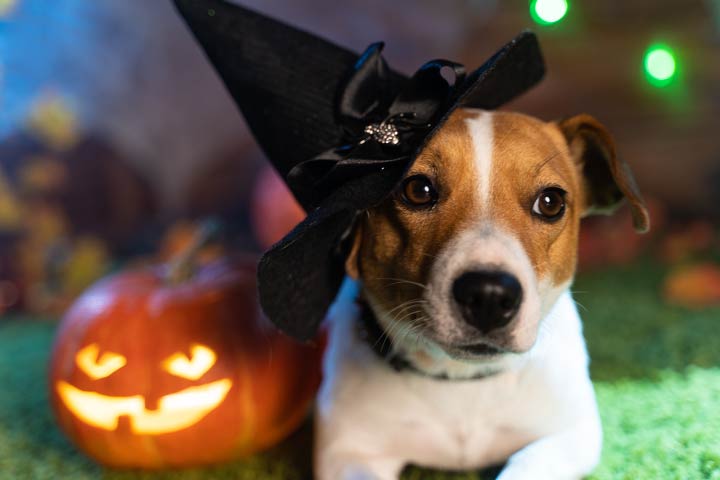 Are you ready for Halloween? This year's holiday may not look the same as before, but that doesn't mean you and your pet can't have fun together! With the night inching closer and closer, the rush to pick out a costume is upon us. While you search for the perfect costume, don't forget to include your pets! There are so many amazing costumes to choose from, and if you don't know what to choose, our newest article can be a good start. Here, we will discuss:
How to measure costume sizes for pets
Costume ideas for different kinds of pets
Training your pet to put their costume onRead 'Preparing Your Dog's Look for Howl-oween!' for all your costume needs!
Preparing Your Dog's Look for Howl-oween!
What's the best part of Halloween: the candy, the spooky decorations? It's the costumes of course, especially when they're for dogs and cats! If you are thinking about finding a cute idea for your little friend but don't know where to start, this is the place for you. We'll discuss how to shop smartly, help you brainstorm your pet's look with a few cute ideas, and help you prepare for the big night.
Finding the Purr-fect Fit
As we all know with our own clothes shopping, sizing can become quite an issue when finding the right costume to wear. Unfortunately, dog and cat clothes shopping is not much better. Sizing varies greatly from store to store, who categorize their sizes by the type of dog or animal they cater towards. This could mean that a 'small' for one store that designs for big breeds could be a 'large' at another store.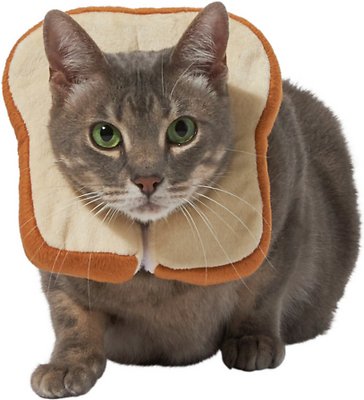 With these factors in mind, it is important to have good measurements of your dog or cat before browsing so as to not get confused. The three main numbers to have in mind include the neck, chest or girth, and length measurements. While taking these measurements, it is always a good idea to round up so as to give your dog some wiggle room. To take these measurements, find a measuring tape used for sewing, or in a pinch, find some string that can be compared to a ruler.
To begin, the neck measurement is the easiest part to do. There are a few ways to go about this, but the best way to measure is to take off their collar and measure it by itself, or simply measure around the base of their naked neck.
The chest measurement should be taken by wrapping the tape around the widest part of your pet's chest. This is especially important for wide-chested dogs, or else the outfit may hurt them or not fit altogether. The chest measurement is the best part to round up on, as rounding down or mismeasuring could impair your pets breathing if too tight.
Finally, the length measurement is the most confusing to owners, but is simple to take. Most pet clothing stores recommend measuring from your pet's collar to the base of their tail, but you can simply measure to where you want the costume to end.
Brainstorming the Best Costume
Now that you have some hard numbers to work with, it's time to get shopping! There is a massive variety of costumes online, in-store, or even DIY to choose from. Based on the type of dog or cat you own, we have some fun suggestions to get you brainstorming.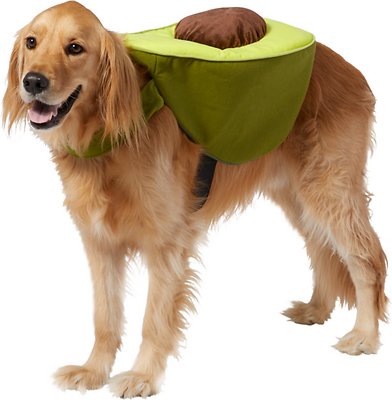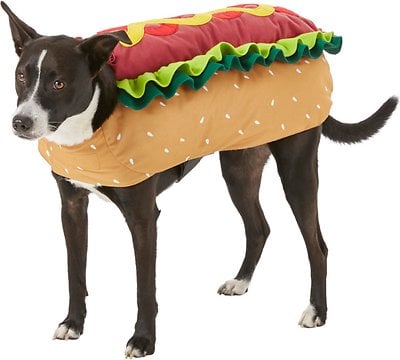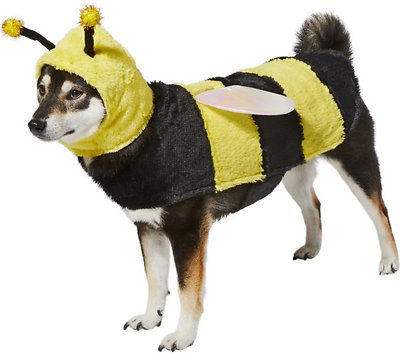 First off, dressing up small dogs and puppies is so much fun, especially since they have exclusive little costumes that look better on them. For instance, food outfits are a perfect and funny addition to the assortment of snacks you'll have on Halloween night. Plus, there's a variety of foods to choose from such as tacos, tootsie rolls, and of course, the famous hot dog. If you prefer a cuter outfit than food, little outfits like a bee or a teddy bear will have any passerby cooing at your irresistible little pup. In addition, lots of costumes made for smaller dogs include funny extensions such as arms for the UPS driver costume, or a saddle and a cowboy for your dog to feel like a natural steed. Of course if you're going for a more functional costume, some festive harnesses have costume attachments, such as a superhero harness that includes a cape.
While it is true that smaller dogs have it easier when finding a costume, bigger dogs just have to be more creative when selecting an outfit. When it comes to big dogs, it is often better for them and easier for you to search for fun headpieces and adornments as opposed to a full jumpsuit-like costume. For instance, a lion's mane and tail fluff can make your dog the king of the jungle in a very simple way. If you search, some outfits can be functional outside of the holiday as well. For example, lots of pet hoodies come in a variety of animals like dinosaurs and can keep your pet warm all year long! Lots of owners also have a good history with a set of wings, especially when it comes to fussy pets. With a simple set of wings, they could be a bat, a fairy, you name it!
Some pets are less festive than others, but they can still join in the celebration in their own way. A nice alternative to a big, flashy costume is a seasonal bandana or collar. There are many designs and types available to suit your pet's style just right, and will not irritate them too much.
A lot of the costumes discussed here are very dog-focused, but that doesn't mean that cats can't wear them as well! As a tip, however, cats often prefer to wear lightweight costumes such as flowy t-shirts, wings, or headpieces. Depending on what you buy, make sure that the costume does not restrict their movement too much, as they will carry on as normal. With a costume on, their usual routines of jumping and climbing could lead to a crazy fall! With these notes in mind, some costume ideas include a 'Cat in the Hat' hat and bowtie, a cute sushi costume that wraps around their chest, or maybe a little witch cat and cape.
If you're trying to dress up with your pet, there's costumes for that too. If you choose a bee outfit for your dog, you could be a pretty flower for them to buzz around all night. For Disney fanatics, a Beauty and the Beast pair would have people going crazy. Another classic is dressing up as Dorothy and Toto, especially if you happen to own a little Terrier. For bigger dogs, a security dog paired with a famous celebrity would be a real head-turner.
No matter what you choose, always make sure you keep your pet's comfort level and safety in mind so they can enjoy the Halloween fun just as much as you.
Getting Ready for the Big Night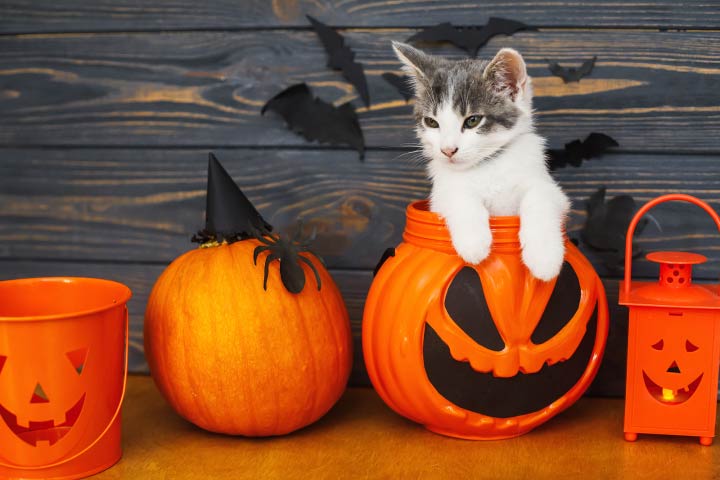 Although putting a Halloween costume on the night of Halloween is exciting for us, your pet may not feel the same way if you wait until the day of to introduce their costume to them. Thankfully, training your pet to feel comfortable in their new look is simple if started early.
To begin, put the costume on the floor and let them sniff it for a while, rewarding them for being near it. Gradually introduce parts of the costume (for instance, putting one arm in a shirt) and rewarding them with treats when the costume is on. The goal is to have your pet associate treats with the costume. Once completely on, praise and use positive reinforcement to make them happy and content with the feeling of the outfit. While on, pay attention to your pet's body language so you know when to take it off. With this in mind, try not to drag the Halloween festivities on too long and allow your pet to have breaks from the costume if they become tired of it.
Halloween is such an exciting holiday for owners and pets alike, and with these tips your pet will be the life of the party with their jaw-dropping costume. No matter what outfit you choose, of course, your pet will be happy you included them in all the fun.
We've taken the guesswork out of caring for your pets. Our formulations are created by experienced veterinarians to address specific solutions for a variety of pet issues.
All of our products are:
GLOBALLY SOURCED INGREDIENTS
FDA AUDITED, CGMP COMPLIANT FACILITY